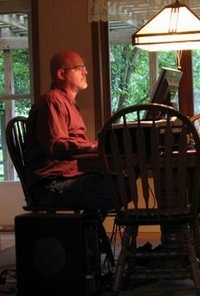 Steven L. Berg, PhD
Professional Background
I am a professor of English and history at Schoolcraft College. My classes are what are known as "student centered" because I give students a great deal of flexibility in completing required course work. Students are also responsible for helping co-teach classes based on their research.
Among students, I am known as the professor who serves tea in the library. I am a professor who shows up--individually or with my classes--at campus events such as School Daze, International Institute speakers, and so forth. I have also established the Berg Endowment to celebrate the achievements of those talented students who had some difficulty in college but who are currently experiencing success.
My reflections on education are regularly published in Etena Sacca-vajjena and other venues.



Personal Background
I share life with my partner (aka "The Puerto Rican") and our three rescue dogs. In addition to caring for our four legged children, we have a number of two legged "kids" we mentor, help support, and so forth.
I have actively pursued my interest in genealogical research since 2009; an interest which I have been able to incorporate into my teaching. I enjoy working in my garden, reading in a variety of disciplines, photography, and artwork. Since attending a film festival at the local community college when I was 16, I have had a passion for short films. I also collect Buddhist iconography and other eastern art.

Abeula (left), Snookie (center), Lil Mama (right)